Not just a water filter
Purify and soften at the same time
Chlorine, heavy metals, limescale, silica
You don't need to add nasty chemicals to take out nasty chemicals. We are chemical free and proud.
The cost of ownership is impacted hugely by power required. Our rely on quality filters rather than powered systems.
Quality filters mean you have long life filters that will last and provide ultimate filtration over other options including under-bench.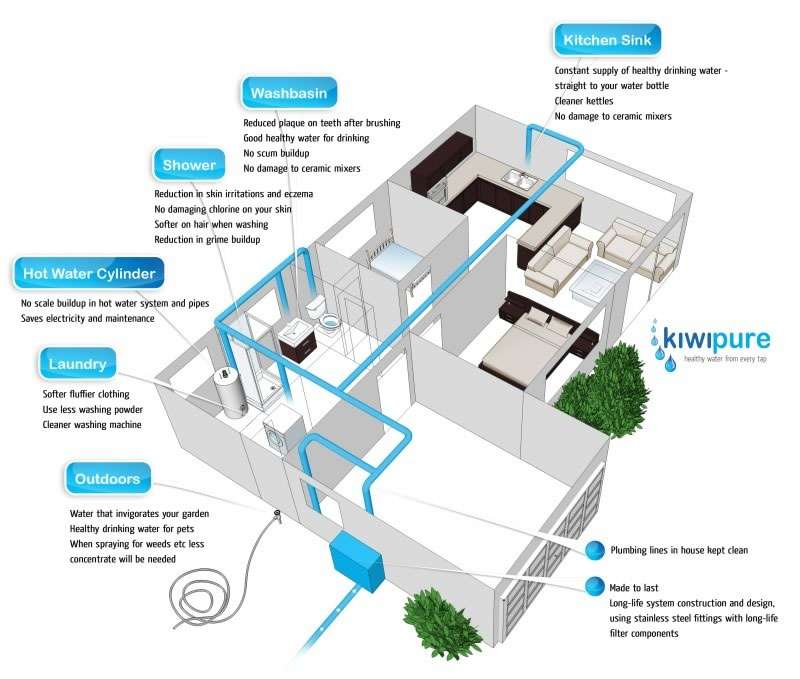 Whole house water filtration
Every tap in the property can have purified and softened water:


Kitchens for better tasting food, healthier living
Bathrooms for easier clean, less skin irritations
Laundry for less powder required, better smelling clothes
Outside taps for plant growth and healthier vegetables
The system attaches to your mains input water pipe between the roadside and house. Your plumber can install these - in most cases very simply.

Testimonials
"Our washing powder usage in the washing machine has decreased..." Joy and Graham in Tauranga

"Guest comment on how nice our water is..." Cliff & Lisa in Hamilton

Call us to talk about your situation - free and honest advice.
0800 552 509

We have thousands of happy customers so you are in good hands.
We supply everything you need to have the system installed by your local plumber.


No-maintenance Virtual Ionizer (Kiwipure only product)
NZ specific sediment filtration - high quality, long life
NZ specific carbon / KDF filter for up to 99% reduction in chlorine
Taps and fittings in brass with stainless piping for super-long life
10 year warranty
BUY DIRECT & SAVE
We are selling direct to the public online so we can provide a premium product at a mid-market price. We don't have resellers or retailers selling our products.



Buy online
Installation is not included so what is the cost? We find that most customers will install for between $150 and $400 by their local plumber. It's not a hard job when the water main has easy access.
How do I know I have hard water? You will see deposits on bathroom surfaces and your jug will get build up.
Do I have chlorine in my water? If you are on town supply yes. All councils put chlorine in the water.
Do you have retail stores? No, we go direct to give you the best price we can.
Why is your system better? Others don't have the Virtual Ionizer which softens water. Also, nearly always others are produced on mass in China not for NZ conditions.
What back up service and support do you provide? We have been around more than 10 years and provide expert advice and support. Our products have a 10 year warranty.
Ask a question